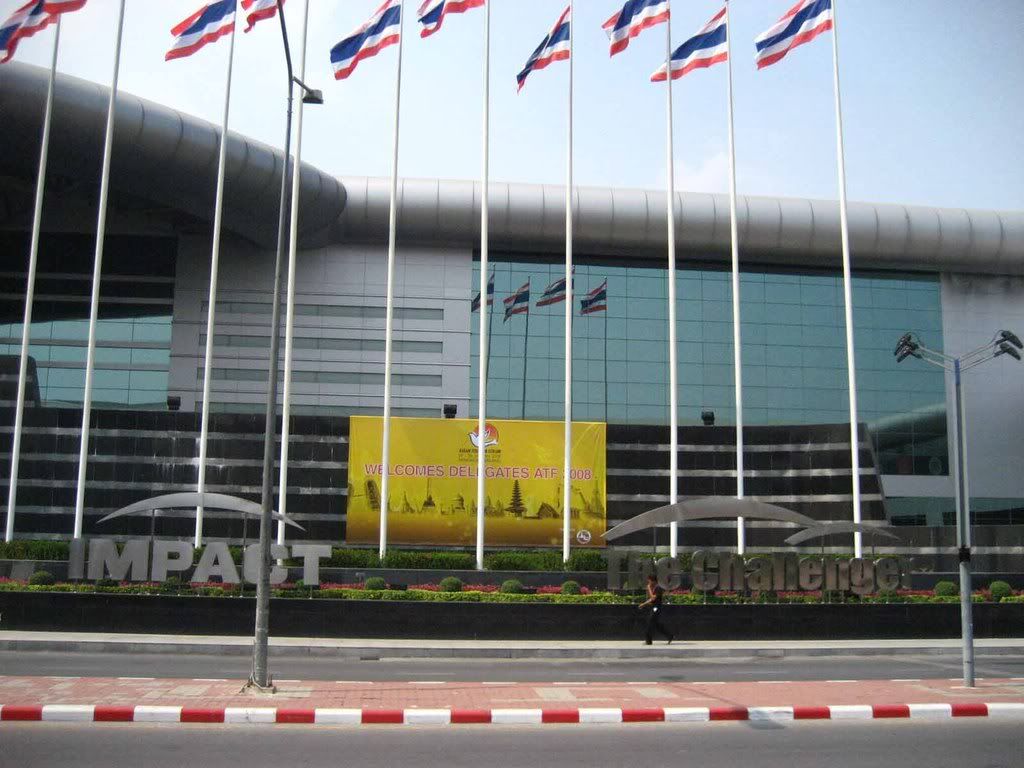 Me and my co-managers attended the ASEAN Tourism Forum in Bangkok, Thailand. The convention was held at the Impact Exhibition Center in the Muang Thong Thani district of Bangkok, which is about 25-30 minutes away from downtown Bangkok. It is accessible via one of the elevated expressways that Bangkok has.

The whole complex is bigger than the Phil. International Convention Center, SMX Convention Center, World Trade Center and Araneta Coliseum combined.

It has an arena, 2 exhibiton centers with 8 halls, 1 convention center with 2 halls and the IMPACT Challenger with 3 exhibit halls, several meeting rooms and function rooms and a huge ballroom. It was in the Challenger building were the convention was located. The Challenger is even bigger than the new SMX and the World Trade Center.

The convention center has it's own food court (Subway, Starbucks, McDonald's, etc) and a drugstore (Boots from the UK). It has 5 other restaurants (Japanese, Indonesian, European, Chinese, Vietnamese).

There's even a cafe in the center of the wide lobby area, across the registration counter (as seen in the last 3 photos).

How I wish our country could have a facilty or building as big as this, which could attract the international convention and exhibition market. This would boost the tourism industry of the country.

It doesn't even have to be in any of the congested areas of Metro Manila (Pasay, Makati, Manila, Pasig, Mandaluyong, San Juan, Las Pinas, Quezon City). The Thais situated the convention center on the outskirts of the capital. But, like I mentioned earlier, is accessible via one of their expressways.

Their elevated highway network is another story. Something which Bayani Fernando would want for Metro Manila and connecting provinces.

sigh.... wishful thinking.......